About Us
Eightfold empowers people to pursue the career path of their choosing
In Buddhist philosophy, the Eightfold Path guides each person to wisdom and nirvana. We are inspired by this ideal, and through our work, we wish to empower each individual to pursue the career path of their choosing, gaining the knowledge they need to achieve their goals and aspirations.
Fixing Employment
We believe everyone deserves the right job
We believe employment is the backbone of our society, and everyone deserves the right job. Today you get the job based on who you might know and not what you are capable of doing. Tomorrow, we will give you the information you need to pursue your best career path.
Leaders in AI Technologies
We've brought the world's best team together
Our team are experts in machine learning, artificial intelligence, search, personalization, and enterprise solutions. We're applying our experience in delivering technology at scale to solve employment, finding the right person for the right role at the right time. This is our mission. This gets us going every morning. Help us make it happen.
CEO & Co-Founder
Ashutosh Garg
With 6000+ research citations, 50+ patents, 35+ peer reviewed research publications, and the outstanding PhD thesis award from UIUC for his PhD thesis in Machine Learning, it's fair to say that Ashu is one of the world's experts in machine learning.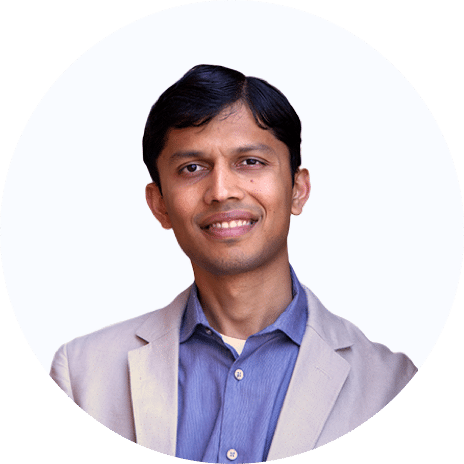 CTO & Co-Founder
Varun Kacholia
Varun Kacholia is one of the world's leaders when it comes to search, ranking and machine-learning. Prior to founding Eightfold, Varun led the News Feed team at Facebook and the YouTube Search and Recommendations team at Google.
President
Kamal Ahluwalia
Kamal Ahluwalia brings extensive experience in creating software categories, scaling businesses and ensuring that customer and partner success drive business success. As Chief Revenue Officer at Apttus, Kamal led the company to market leadership in multiple product categories ahead of Salesforce, Oracle, SAP, IBM, and others.
Chief Product Officer
York Poon
York has spent his career building and launching successful enterprise SaaS solutions, including Upwork/Elance, the largest marketplace for freelancing services, Oracle Procurement, and Oracle Exchange Marketplace. York has a track record of helping startups drive a strong product vision, and user-centric, data-driven development culture.
VP of Finance
Sweta Sarnot
Versatile business and finance leader with 15 years of experience in financial planning and analysis, strategy, mergers and acquisitions, and decision support for technology companies. Former McKinsey consultant, Stanford MBA and IIT engineer.
"Eightfold has an incredible opportunity to help people reach their full potential in their careers while empowering the workforces of the future"
– Peter Nieh
"Eightfold's Talent Intelligence Platform reimagines how employees and employers discover each other, helps people find better opportunities, and saves everyone time and expense"
– Ashu Garg

"Ashutosh and his team are building a product that fundamentally changes the hiring landscape and enables candidates to find their ideal jobs and companies to build diverse, highly effective workforces."
– Jules Maltz
Eightfold Cultivate Program
Realize Your Potential
Eightfold employees are committed to help people in our communities to achieve their professional potential. Whether you need a better resume, prepare for an interview, or just get career advise, we are here to help.